Current dates of handicraft markets and information
Current dates of handicraft markets and information
Dear customers,
Friends and lovers of our Woodandform salt and pepper mills, we would like to inform you about current dates, events and short-term changes.
You are welcome to look around in our online shop for beautiful mills. We will be adding many new grinders here over the next few days and weeks.
If you can't find what you're looking for, please feel free to contact us by phone or email. We have many particularly beautiful salt and pepper mills made from rare woods that we reserved for the markets and that are not in the online shop. We can advise you on the phone.
to the Online shop
Due to many requests, we now also offer nutmeg grinders with our unique design with a square basic shape and slightly concave rounded sides. For these nutmeg mills we use the high-quality Swiss grinder from Strässler. (Look in the online shop under MUSKATMÜHLEN)
We have also set up a NEW MILLS gallery with current photos for you. there you can find mills that are not in the online shop. If you are interested, ask us for details, sizes and prices.
We wish you all a good time
Yours, Dörte Leiteritz & Ralf K. Herzig
…
For the year 2023 we have planned the following handicraft markets and current dates:
March 25th and 26th, 2023 Spring market ART & CRAFTS at Gut Herrmannsdorf, Glonn,
www.herrmannsdorfer.de/erlebnis/kunst- Handwerk/
April 22 and 23, 2023 ART & GARDEN MARKET at Gut Herrmannsdorf, Glonn,
www.herrmannsdorfer.de/erlebnis/kunst- Handwerk/
Pentecost 2023:
May 27 – 29, 2023 Arts and crafts in Seeon, Strandbad Seeon, Seestraße 22, 83370 Seeon-Seebruck, opening times Saturday to Monday 10 a.m. to 6 p.m., www.kunstcraftinseeon.de/
14 and 15 October 2023 – Kunst am Kloster Weyarn, 83629 Weyarn, Klosterweg 1, Sat and Sun 10 a.m. – 6 p.m., free admission, www.kunst-am-kloster.de/
4.u. Nov. 5, 2023 arts and crafts market in the documenta hall in Kassel
Sat. 11 a.m. – 6 p.m., Sun. 10 a.m. – 6 p.m., day ticket 4 euros, www.kunst Handwerkermarkt-kassel.de/
December. 2023 Herrmannsdorf Advent market "ART & CRAFTS", Herrmannsdorfer Landwerkstätten, Herrmannsdorf 7, 85625 Glonn, www.herrmannsdorfer.de/erlebnis/kunst- Handwerk/
Nov. 24 to Dec. 24, 2023 Schwabing Christmas market on the Münchner Freiheit, 12 p.m. to 8.30 p.m., www.schwabinger christmas market.de, on Friday, Nov. 25 from 6 p.m. 12pm – 8:30pm, Sat and Sun 11am – 8:30pm, on Saturday 24 Dec from 11am – 2pm (Christmas Eve)
and possibly other markets and current dates. (Subject to change/cancellation).
The television was there.
The Bayerischer Rundfunk was in our workshop some time ago and then broadcast a report in the "Abendschau der Sueden". If you haven't seen it, you can see the report again in the Internet archive.
A small shop
we have rented here in the middle of Breitbrunn am Chiemsee since 2015 as an exhibition space for our mills. We are very happy about this nice opportunity to show our products publicly on site. Incidentally, right next to the newly opened vegetarian restaurant  "PURA" in Breitbrunn am Chiemsee.

Wir sind seit Anfang 2017 auch mit unser
Workshop moved to Breitbrunn. However, we are still looking for larger rooms.
You will be informed about all news and current market dates in good time here or via our newsletter.
Of course, we ship orders via the Internet free of charge within Germany. International please ask.
Large format photos of our Woodandform salt and pepper mills for press releases or market flyers can be found under press photos Pressefotos and our gallery of the most beautiful pepper mills.
You are also welcome to visit us in our workshop in Breitbrunn am Chiemsee and see our latest creations schönsten Pfeffermühlen. Simply make an appointment by phone.
We are looking forward to your visit
Dörte Leiteritz and Ralf K. Herzig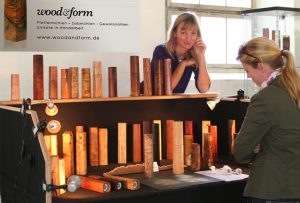 …