Latest dates of arts and craft markets, news, galleries, newsletters, workshop and facebook
For the year 2019 we have planned the following arts and crafts markets:
13. und 14. April 2019 – Herrmannsdorf FRÜHLINGSMARKT "KUNST & HANDWERK", Samstag und Sonntag, 10 – 18 Uhr, www.herrmannsdorfer.de/veranstaltungen/handwerkermaerkte/
3. und 5. Mai 2019 – Kunst im Gut, Scheyern, www.kunst-im-gut.de
16. und 17. Juni 2018 – Kaiserplatz Forchheim, 10:00 – 18:00 Uhr, www.forchheim.de/kunsthandwerker-kaiserpfalz
7. und 8. Sept. 2019 – Europamarkt Aachen, www.europamarkt-aachen.de
4. und 6. Okt. 2019 – Kunst im Gut, Scheyern, www.kunst-im-gut.de
12. und 13. Okt. 2019 – Kunst am Kloster Weyarn,
83629 Weyarn, Klosterweg 1, www.kunst-am-kloster.de
2. und 3. Nov. 2019 – Kunsthandwerkermarkt in der documenta-Halle Kassel, www.kunsthandwerkermarkt-kassel.de
7. und 8. Dez. 2019 Herrmannsdorf WEIHNACHTSMARKT "KUNST & HANDWERK", Sa. und So., 10 – 18 Uhr www.herrmannsdorfer.de/veranstaltungen/handwerkermaerkte/
5. bis 8. Dez. 2019 Zeughausmesse Berlin, www.zeughausmesse.de
30. Nov. bis 11. Dez. 2019 Schwabinger Weihnachtsmarkt auf der Münchner Freiheit, jeweils 12.00 – 20.30 Uhr, www.schwabingerweihnachtsmarkt.de
und evtl. weitere Märkte. (Änderungen vorbehalten)
The German television was here.
The bavarian TV was in our workshop some time ago and then sent a report in the "Abendschau der Süden". Those who have not seen it, can see the report again in the Internet Archive. Click here for the video:  www.br.de/abendschau
A new little shop
Since 2015, we have a little shop as an exhibition space for our mills in the middle of Breitbrunn at Chiemsee . We are very happy about this nice opportunity to show our products in public. Incidentally, right next to the newly opened vegetarian restaurant  "PURA" in Breitbrunn at Chiemsee.
Since the beginning of 2017 we moved to Breitbrunn with our workshop. However, we are still looking for bigger rooms.

For some time we offer a fine selection of pepper and salts to match our fine mills. Especially spicy and aromatic black organic Tellicherry pepper from India or purest Halit crystal salt from the foothills of the Himalayas, spicy alpine salt from the Salzkammergut, rich in natural minerals of the primeval sea, German rock salt all natural from 1000 meters depth, created by the desiccation of the primeval Zechsteinmeeres over 250 million years ago northern and central Germany covered and sea salt from the Mediterranean around southern Italy, hand-harvested in nature reserves in the traditional way.
Read more about salt here.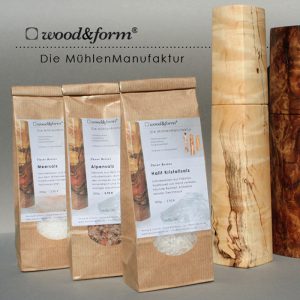 You will find out all the latest news and current market dates in good time here or via our newsletter.
Interessante Neuigkeiten auch auf Facebook.
Find out more on this website. Here you will also find our new mills with many current individual pieces.
Of course, we ship free of charge for orders over the Internet.
You are also welcome to visit us in our workshop near Prien am Chiemsee and see our latest creations. Make an appointment by phone.
We are looking forward to your visit
Dörte Leiteritz und Ralf K. Herzig
Wir freuen uns auf Ihren Besuch
Dörte Leiteritz und Ralf K. Herzig